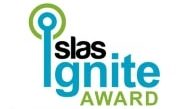 BennuBio Receives SLAS 2022 Ignite Award
BennuBio announced it received the Society for Laboratory Automation and Screening (SLAS) prestigious Ignite award at SLAS's annual International Conference and Exhibition in Boston, MA on February 9, 2022.
The SLAS Ignite Award recognizes the best start-up or emerging company exhibiting within Innovation AveNEW, a specially designated area for start-ups and emerging companies within the SLAS International Conference and Exhibition. Seventeen companies were selected to participate in the Innovation AveNEW program, of which the top five finalists were nominated to compete for the SLAS2022 Ignite Award.
Companies selected for Innovation AveNEW, and the finalists that compete for the Ignite Award, are judged by an SLAS panel on a combination of criteria, including marketing plan, market presence and potential; funding prospect; plan for growth and company leadership.
BennuBio receives a $5,000 prize and will be featured in the SLAS New Matter podcast and / or ELN feature story on the SLAS website, as well as receive on-going media publicity through SLAS.
Commenting on the Ignite Award, Dr. Graves stated, "We are extremely excited and honored to be the recipient of the 2022 SLAS Ignite Award for the Best New Company at Innovation AveNew at SLAS2022. This award and extremely warm reception that we received from the SLAS members, demonstrates the value that the Velocyt® and our products will bring to the world of pharmaceutical screening and biomedical diagnostics".
The Society for Laboratory Automation and Screening (SLAS) is an international professional society of academic, industry and government researchers as well as developers and providers of laboratory automation technology and tools.
BennuBio is an Albuquerque, New Mexico-based biotechnology company focused on developing innovative large particle cell analysis instruments for biomedical and pharmaceutical research.
For information contact: Katie Berg, +1 (415)933-0150, katie.berg@BennuBio.com Website: www.bennubio.com .